JOEL ELGIN
This is the creature that started me printmaking (the one on the right). I really had no idea what the hell I was getting into. What was this metal stuff? We do what with it? It produces an image on paper? What's all this acid, varnish, and black stuff? Yes, I went from that naivete to now being able to create a whole blog about printmaking. Amazing what happens when a seed is planted!!!
This is my favorite print from my professor
Joel Elgin
. Joel Elgin was a student of Mauricio Lasansky. Printmaking was always a challenge for me, but eventually the gods granted me access into the world, and now I am enchanted with printmaking. Joel Elgin is the most influential person in my life. He emits his passion for intaglio printmaking onto all of his students. He guides them spiritually and technically in the print shop he refers to as the shop of love.
CAER
This is what Joel has to say about his work:
"The rich history of my Celtic roots drives me to explore the numerous myths, mysteries and truths that exist in the forms of text and image. To know my past I have traveled three times to Ireland and each time been lost in the mist that exists between myth and truth.
I have become influenced (enchanted) by the colors, textures, smells, sounds and tastes of Ireland. Each myth and legend I discover through reading, then through actual physical exploration of the site demands the creation of a new print. The production of the print furthers my process of learning specific information and yet at the same time opens, more fully, the vein that connects me to my Irish heritage.
I have learned each moment I devote to researching mythology, icons, or wandering Irish ruins strengthens my deep respect and homage for my ancestry. The prints I create are a reflection of this respect."-Joel Elgin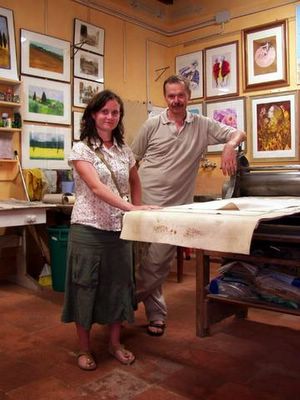 Myself and Swietlan Kraczyna a.k.a. Nick

My friend Nels took a class last summer on
multiple plate color etching
with Nick, which I have talked about previously. He invited me to go visit him. I was in Italy at the time doing the
WWOOF
program (which I highly recommend). It was my last week in Italy before heading up to Switzerland, so I thought I would swing by. The drive to the town was amazing. The roads were so skinny as we passed through forested mountains and valleys. There were tiny towns which had most beautiful atmosphere. Of course, at every little town there was the town elder sitting in a chair outside of his/her house watching the traffic and people going by. After a few hours of getting lost, we finally made it to Barga. The town seems to be split in two. On the top of the hill was the old Barga, and below around it was the newer Barga. Surrounding the whole town were green mountains as far as the eyes could see. Old barga is just beautiful. I got lost as I was looking for Nels, and I was astonished to see that there were so many art galleries and studios. It was a little town of what seemed like, artists. Because we were two hours late and the heat was unbearable we missed our meeting with Nels at the Cathedral. So, I was running around this quaint little maze of a town trying to track him down. Nels is not hard to miss. He's over 6 foot, skinny, and you never know what color hair he is going to have. Also, he usually wears purple all the time. I was so sad that we missed him. So, I waited for the tourist office to open (siesta time) and went to ask where I could find a printshop in the town, and also if I could check my e-mail. As I was using the e-mail, a loud American walked in and was asking for hiking trails. It was Nels!!! I was so happy to see him, and he to see me. He took me to Nicks printshop. It was amazing. Nicks prints were all over the walls in the front "gallery". I could have easily mistaken them for painting except for that intaglio look of how color and paper and texture come together just so beautifully. His craftmanship is just amazing and out of this world. I spend so long with my nose to his prints. It was a long time since I was in a printshop, and I immediatley went over to the ink and sniffed it. Yes, this was glorious. I missed printing so much. I met Nick, and he was such a nice person. Around the walls were students' work. It was so beautiful. He has taught them how to use color so well. I was so jealous and wanted to stay forever. I'm sure I will go back and hopefully take his class after I have saved enough money. After being in the shop Nels, myself, my boyfriend, and some of the students went for some vino. We had a long chat staring over the valley surrounding by the warm hue's of the Italian rooftops and buildings. It was paradise. Who could ask more for a beautiful town, friends, and a printshop.
This is my professor Greg Piatt. He has patiently taught me my new skill, lithography. He teaches in the printmaking department at CCA. Greg is an animal lover and enviromental conservatist. He co-runs a gallery on Mount Diablo which exhibits art work related to Mount Diablo.
Maria Porges was one of my advisors that helped me out a lot at CCA. She has a great gift for storytelling, and is a fabulous writer. She graduated with a degree in Printmaking at Yale where Gabor Peterdi taught. He had stopped teaching by the time she was there. She inspired me a lot, and gave me invaluable advise.