Last Wednesday, I went with a friend to the opening of Matisse as a sculptor at the SFMOMA. Note to self: never go to an opening at SFMOMA. There were so many people. I am surprised that none of the sculptures fell off the podium. I thought the exhibition was nice. I liked how the sculptures were displayed along with some of his paintings, drawings, and paper cut outs. It really brought life and dimensionality to his artistic practice. I did not however some across any of his prints. So I did a little research and found this:

Matisse's interest in printmaking was concentrated into relatively short periods throughout his career, but his output was prolific, both in etching and lithography. His first significant group of etchings, of 1914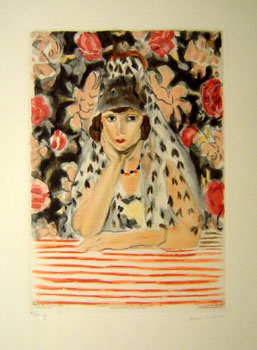 , are intimate portraits of friends and family executed with astonishing speed.
In the early 1920s he turned with enthusiasm to lithography, and from 1925-30 he produced more than 80 studies of models, nude or draped, surrounded by flowers, fabrics and furniture whose fluid lines merge into an arabesque of pattern. His contact with Diaghilev in 1927 inspired numerous prints of ballet dancers and the portfolio 'Dix Danseuses'.
In 1929 Matisse resumed etching, working directly on the plate from the model and producing a constellation of nudes and odalisques whose lively clarity of line replaces the still, voluptuous atmosphere of the seraglio. His printmaking allowed to him to explore and distill in other media the themes that preoccupied him as a painter.
-Merivale Editions

I realize that it wasn't a retrospective of his life's work, but still I was surprised not to see some prints. Some sculptors have told me how easily they have taken to printmaking because can be similar to a sculptural process, so I just figured a print or two might be interesting. Although now looking at some of his prints I think he took to printmaking more like a drawer would.

He was such an amazing colorist. Okay, so I think I looked more at his 2D work than his sculpture, but honestly his paintings are so beautiful. I've seen his paintings in many different museums, but for some reason when placed with his mostly black sculptures, the colors just vibrated beautifully. It's amazing how he took the most ugly color scheme in the world and made it look beautiful. He is a much greater painter than Picasso when it comes to color. I don't like Matisses flat color designs though. Too boring.

What I find interesting about being a student of art is how little we are actually exposed to a large body of artists work. Sure, we learn all these famous artists from books. We rush from artist to the next. I think if I had taken more time to look at Matisses work....to really study it in person, I might have been more inspired by him. He's the type of artist I know about, but I only took a quick bite without fully digesting his work. The same is true when I go to a museum. He is always thrown in with a bunch of other artists, and I scan quickly.

Another interesting aspect to the exhibition was the selection of other works by artists. It was interesting to see where Matisse got his inspiration from. Even Matisse the "master artist" would study other artists and wasn't afraid to "copy" or "steal" from others. This is always something I've had a problem with. I've been taught it is good to steal, but somehow inside of me if I make a piece of art that resembles any other artist directly even in the littlest bit, it makes me nervous and I don't like it. My first prints that I ever did were based on Egon Shiele's figures. Eventhough a lot of the composition and most of the elements were made up by me, the parts that were not made from me really bothered me. Maybe I'm too uptight. I need to relax more. I need to make lots of work......lots of crap....lots of successful pieces....lots of neeehhhh. Step back, breathe, and not judge. Now that I am not in school, I can do that.
This was my favorite painting: (the picture does no justice):

Look at the colors, lines, textures, shapes: beautiful!

Matisse as a Sculptor

Saturday, June 09, 2007 - Sunday, September 16, 2007
(SFMOMA)
Known primarily for his beautiful paintings, drawings, and works on paper, Henri Matisse was also an accomplished sculptor whose radical style left lasting marks on modern art history. The first major U.S. examination of Matisse's sculpture in nearly 40 years, this exhibition assembles more than 150 works in a variety of media to illustrate his inventiveness, dexterity, and historical significance. Side-by-side presentations of two- and three-dimensional pieces showcase the way themes, imagery, and processes overlapped in Matisse's studio practice, while a selection of works by the artist's peers — including Constantin Brancusi, Paul Cézanne, Edgar Degas, Alberto Giacometti, Pablo Picasso, and Auguste Rodin — provides a vivid context for considering Matisse's oeuvre.