Kiki Smith
Kiki Smith is one of my favorite printmakers. She combines eerie imagery with a very naive printmaking style.
Kiki Smith (American, born Germany, 1954) is among the most significant artists of her generation. Known primarily as a sculptor, she has also devoted herself to printmaking, which she considers an equally vital part of her work. The exhibition and accompanying catalogue, Kiki Smith: Prints, Books, and Things (2003), showcase the scope of Smith's printed art and present it thematically, focusing on such topics as anatomy, self-portraiture, nature, and female iconography. This interactive Web site is similarly arranged and fosters a rich understanding of her innovative body of printed art, illustrating over 135 works in more than 50 comparative groupings. In the "Process" section, Smith's creative thinking is explored through two series of evolutionary printed proofs and through video footage of the artist making prints.
Louise Bourgeois is another artist/printmaker that I admire. Her work has often been recommended to me along with Kiki Smith and Nancy Spero.
db artmage
The artist Jenny Holzer said: "When I review the testimony about what is wrong with women, Louise Bourgeois' work is the perfect rebuttal." At nearly 93, Bourgeois, who hasn't left her house in ten years, is hard at work making sculptures and installations from stitched fabric, wood, steel, latex and marble as well as drawings and prints. She still holds her famous "Sunday Salons" where artists are invited to bring work at their own risk. Bourgeois often includes text in her visual work and has kept a copious diary from a very young age. Bourgeois' sculptures and installations use hooks, guillotines and sculptural incisions as flaying devices related to a disruptive past. Bourgeois uses events she saw as a young girl during and after WWI when large numbers of men returned from battle as amputees. Body parts are frequently the subject of her work. As the feminist artist Adrian Piper has said: Louise Bourgeois' "work draws us into a space where the dynamics of power and surrender, of gender identity, the circumspection of the body, and relation to the mother are unavoidable. It forces us to become aware of our own status as incomplete adults." Bourgeois' relationship to feminism is best epitomized by events of the late 70s.
Christina Santander
Cristina Santander, born in Buenos Aires, Argentina, is a professor at the National School of Buenos Aires. She also worked in Paris in the workshop of engraving of S.W. Hayter and already exposed in many countries. She presented her work for the first time in Switzerland at the Gallery the Orangery. Her works are in several museums and private collections. Her creations are high colors and overflowing of imagination.
Mauricio Lasansky
Mauricio Lasansky has been making prints for more than 65 years — first in his native Argentina, then in New York City, and (more than fifty-five years) in Iowa City, Iowa. Best known for large scale prints in which he uses multiple plates and full ranges of color, Lasansky combines a spectrum of graphic techniques including etching, drypoint, aquatint and engraving. Throughout his stylistic evolution, he has created eloquent figural statements that are colorful, fresh and spontaneous.
Mauricio Lasansky has devoted himself to exploring the expressive possibilities of graphic arts. He has amassed a body of prints considered to be among the most powerful and impressive works by a contemporary artist in any medium, and has contributed significantly in establishing printmaking as a meaningful and critical art form of the 20th century. As a result, he has become one of the first in a generation of important printmakers to teach scores of students, who in turn are teaching scores of future generations in the United States and abroad. For all these reasons, Mauricio Lasansky is considered to be one of the "Fathers of 20th Century American Printmaking."
Judy Pfaff
Judy Pfaff
OXO-XOX, 2005
Letterpress, wax
Edition of 30, 13 by 24 inches
Judy Pfaff's sculptures, drawings and prints have been exhibited in museums and galleries around the world. She has been described as a "collagist in space." Pfaff was named a MacArthur Fellow in 2004. Judy has been working at
Tandem Press
in Madison, Wisconsin since 1996 producing over 30 prints.
I also admire
Judy Pfaff's
prints. Her work explores the dichotomies of chaos an order, organic and man made, Eastern and Western. All of these are packaged producing unusual and complex images. One of my former printfreak-peers has been working with Judy at Tandem press this past year. I hope to make it to Madison next Spring to visit Tandem Press.
Joel Elgin
CAER
This is my favorite print from my professor
Joel Elgin
. Joel Elgin was a student of Mauricio Lasansky. Printmaking was always a challenge for me, but eventually the gods granted me access into the world, and now I am enchanted with printmaking. Joel Elgin is the most influential person in my life. He emits his passion for intaglio printmaking onto all of his students. He guides them spiritually and technically in the print shop he refers to as the shop of love.
"CAER"
Oenghus is the son of the water spirit Boann and Dagda, the chief of Ireland's gods… the giver of life and the bestower of all bounties. Oneghus dreamed of a beautiful young woman each night for over a year. He became so enchanted, so obsessed that he began to waste away from lack of food. Boann sent her people to search Ireland for the woman who visited Oenghus in his dreams. For a year they searched and failed while Oneghus became weaker. Bodb, the king of all the Sidhe (those who live in the fairy mounds, invisible to humans, where the gods have their homes) was summoned and within a year he discovered the woman at Lough Beul Draguin, at the Harp of Cliach. Oenghus rushed to discover the woman and at the Lough's edge he saw "thrice fifty" women linked in pairs with silver chains. Among them was the woman who appeared in his dreams. She alone wore a necklace of gold. Bodb told Oenghus that her name was Caer, the daughter of Ethal Anbual, from the fairy dwelling of Uaman in Connacht. Oenghus was forbidden to speak to her until he was granted permission by Medb and Aiill, the King of Connacht. Medb and Ailill informed Dagda and Boann that they had no power over Caer's father, Ethan Anabual, who refused to allow his daughter to marry the son of Dagda. Medb and Ailill sent soldiers to destroy the home of Ethan Anbual and to bring him back in chains. Even in chains he refused to turn over his daughter, saying that she and her maidens suffered from an enchantment which forced them to reside in the shape of swans for one year and in their own forms the following year. He told Oenghus to return to the Lough the following summer to see the truth. Ethan Anbual was believed to be sincere and was released. The following summer Oenghus returned to the Lough and saw "thrice fifty" swans on the water, each wore silver chains, and one wore a circlet of gold. Oenghus called to Caer to come to the bank of the Lough and speak with him. She agreed if he promised to allow her to return to the water, if she wished. He made his promise and she swam over and laid her head in his lap. Oenghus turned himself into a swan and they glided together three times around the Lough.. They then flew to Dagda's palace and as they flew they sang so sweetly that all who heard were lulled into a sleep that lasted for three days and three nights.
JOEL ELGIN
"The rich history of my Celtic roots drives me to explore the numerous myths, mysteries and truths that exist in the forms of text and image. To know my past I have traveled three times to Ireland and each time been lost in the mist that exists between myth and truth.
I have become influenced (enchanted) by the colors, textures, smells, sounds and tastes of Ireland. Each myth and legend I discover through reading, then through actual physical exploration of the site demands the creation of a new print. The production of the print furthers my process of learning specific information and yet at the same time opens, more fully, the vein that connects me to my Irish heritage.
I have learned each moment I devote to researching mythology, icons, or wandering Irish ruins strengthens my deep respect and homage for my ancestry. The prints I create are a reflection of this respect."-Joel Elgin
Krishna Reddy
Krishna Reddy was born in Chittoor, Andhra Pradesh in 1925. Krishna Reddy joined Kala Bhavan, Santiniketan 1941. He finished his studies there in 1946. After graduation, he taught art at Kalakshetra in the then Madras for three years between 1947 and 1950. Krishna Reddy went abroad in 195 1. For two years, he studied at the Slade School of Fine Arts, London and then he studied sculpture with Osip Zadkine between 1952 and 1955 in Paris and then with Marino Marini in Milan from 1956 to 1957. While in Paris, he also studied engraving with S W Hayter between 1953 and 1955.
Considered a master in intaglio printmaking, Krishna Reddy has been guest professor at many top-ranking universities in the USA. He became an associate director at Hayter's Atelier 17 in Pads since 1965. Reddy received the Padma Shri in 1972. Reddy's technique and style have distinguished him as one of the best printmakers of the world. Reddy's prints are abstract. He creates subtle grid-like designs on his plates with intricate texturisations. The myriad complex colour that he introduces in prints are marked by a contemplative approach to the infinite mysteries of nature.
Liz Decker
"Another member of the PICA Hatched group is Liz Decker. 'Cindy' 2005, Jenny Orchard, NSW Her exquisite little prints catch the eye immediately as 'something different' and on closer inspection you can't help but be a bit surprised by the traditional paper being replaced by dried apple slices! As a recent graduate and mature age student, Liz has stepped 'beyond (her) social role of wife and mother.' (Phillips, Imprint Magazine). Phillips writes, 'By disrupting artistic traditions and crossing academic and community cultures, Deckers can explore her artistic identity independantly of social ideals and cultural order.' which sums up the her drive to print outside the square in one chunky sentence! Its amazing how much detail you can squeeze onto a small slice of apple!"-Linden Langdon.
From
Linden Langdon's blog


Stanley William Hayter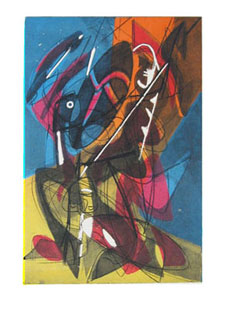 More than any other artist, Stanley William Hayter, brought printmaking into the 20th century. His use of innovative techniques and new materials took printmaking from its traditional function of reproduction and illustration into the realm of fine art.
Many famous artists including Pollock, Max Ernst, de Kooning, and Rothko, came through his studios in Paris and New York. His students included Lasansky and Shahn. It was he who printed Picasso's illustrations for Buffon. An artist's artist, he was more interested in creating art than in self-promotion. As a result, he exhibited little of his own work.