Other workshops that Linda has coming up are in Italy and Greece. She asked me if I would like to be her assistant for the Greece Workshop. I was in such shock when she asked me, and I'm praying that it will work out. So, if any of you printfreaks want to hang out with me in Greece for a couple of weeks please come. Her workshops are great. She also said that they visit Athens for a day. Doesn't it just look magical. Special things happen when you get out of your safety zone and explore the WORLD!! We can go out dancing Greek style!!!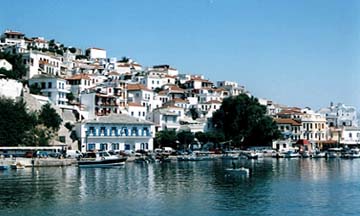 Linda Goodman's International Art Workshops 2006,
Italy
, and
Greece
Painting Drawing Monotype Monoprint Class Summer June July
Painter/ printmaker Linda Goodman is on the faculty at Mission College, Santa Clara, California and has taught extensively in the U.S. and abroad including the School of the Art Institute of Chicago, Illinois; University of Oregon, Eugene; Whitman College, Walla Walla, WA; San Francisco Art Institute, San Francisco, California; UC Berkeley; Berkeley,CA; University of Minnesota, Split Rock; San Francisco State University and Mills College, Oakland, California among others. She regularly teaches workshops in the United States and abroad. In June 2006, join her for the tenth Art Workshop, "Your Creative Sojourn" in captivating Florence, Italy, with a NEW OPTION of visiting for eight days for an "Artist's Date" focusing on museums, drawing, journaling and/or watercolor monotype, or from one to three weeks to work in monoprint (beginning to advanced levels). All groups should have unparalleled privileges at most major Florence museums allowing repeated entrances. In August, she returns to conduct "Walking with the Muse: Creative Journey in Monoprint" on Skopelos Island, Greece for 15 days on this beautiful island in the Agean sea.
Her work is in the Brooklyn Museum, New York; the Oakland Museum, California; the Library of Congress, Washington D.C. and other public and private collections. She holds a Master of Fine Arts from Mills College, Oakland and a BA in Fine Art from Stanford University, Palo Alto, California